The Gingerah Energy Hub brings together over a decade-long deep geological expertise and relationship-building in the Gingerah area. Theia Energy, partnering with the Karajarri Traditional Lands Association, the representative body corporate of the Karajarri People are at the forefront of the energy transition by harnessing the natural resources with the support and wisdom of the Karajarri People.
This land, variously referred to as the Great Sandy Desert, La Grange or West Canning hosts abundant natural resources from the earth's heat, solar irradiation, wind, groundwater and petroleum is now being investigated to build a sustainable world-scale energy hub that brings economic prosperity to the region and it's traditional owners whilst enabling the Australian Government's net zero emissions targets by 2050 while maintaining and enhancing energy security in Western Australia and our trading partners.
Green Ammonia Stage-gated Project Timeline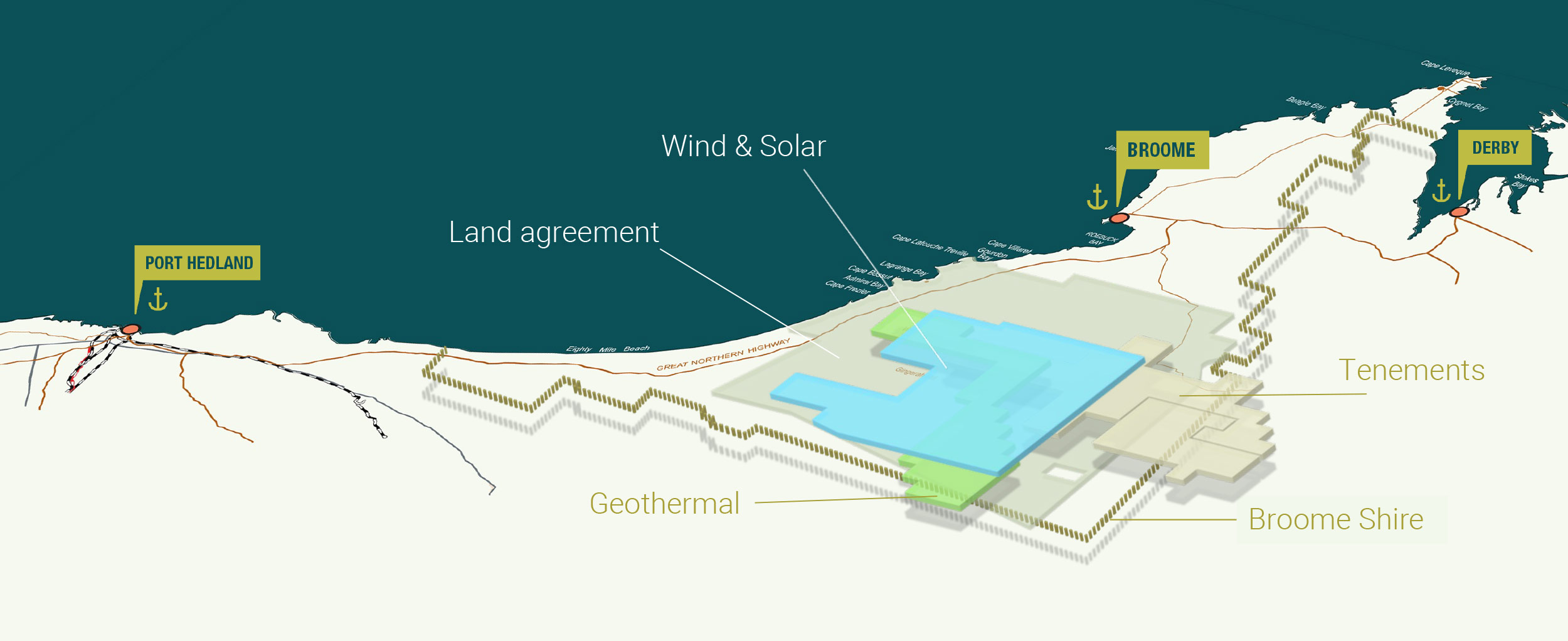 Land access and location
Harnesses the abundant renewable energy
resources of the Gingerah region including solar, geothermal and wind energy to produce green hydrogen and ammonia.
Traditional owner owned
Theia Energy is working with the traditional owners of the land and the Western Australian government to perform the site characterisation works required to define the project scope and concept in such a way that environmental impacts are net positive and sustainable.
Green hydrogen
Green hydrogen produced using electrolysers that separate hydrogen and oxygen from water. Air separation units strip nitrogen from air, which is synthesised using the Haber-Bosch technique to produce green ammonia (NH3).
Green ammonia
Initially, the hub will produce 1 mtpa of green ammonia from up to 3 GW of renewable energy capacity from a mix of sources. The capacity needed and footprint will depend on the type of renewable energy used taking sustainability, availability and cost into consideration.
Sustainability
A combination of generation methods will meet sustainability objectives. The area has a high geothermal gradient allowing energy production from the earth's heat in combination with solar PV and concentrated solar to deliver reliable cost-effective energy with the least environmental disturbance. Water is sustainably sourced from deep aquifers and purified as needed for electrolysis.